13sep7:00 pmHealthy Eating WorkshopHealthy Eating Workshop
Event Details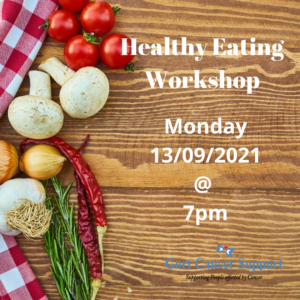 We are delighted to have Maureen Fynes, of MF Wellness, hosting a Healthy Eating Workshop in our studio at Hollyblue House. Good nutrition is the key to vibrant health and wellbeing. With so much information now available on what to eat what not to eat, maintaining a balanced diet can present an overwhelming challenge.
During this workshop Maureen will share some tips and strategies to give you the confidence to make healthy food choices. Maureen will also assist you in implementing an exercise plan that works for you, and teach some strategies to help you rest and manage stress levels.
This workshop is open to everybody, but numbers will be limited based on Covid restrictions.
This Introduction to Healthy Living will cover the following
The Foundation of Good Health
How to improve your health and your mood with food.
How to shop for your store cupboard.
How to balance your blood sugars – the key to energy and vitality
Exercise Audit – Having fun with Exercise
How to consider the types of exercise that works for you – one you will enjoy and how to incorporate it into a busy schedule.
Strategies for Managing Stress
I will help you understand how stress affects your health.
I will teach you practical strategies to deal with and respond to stress.
Habits
A quick look at our food and lifestyle habits.
Reviewing our current habits and how they are serving us
The Importance of Self Care and Happiness
10 Keys to Happier Living
6 Habits of Happiness worth cultivating
.
more