Event Details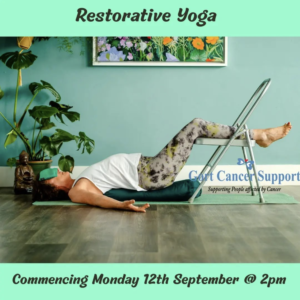 Restorative Yoga
We can't wait to welcome Siobhan Moylan to Hollyblue House next month.
Siobhan will be running a 6-week course of Restorative Yoga. Restorative yoga is very different from other forms of yoga. There is no stretching involved.  It is constructive rest.  In a one hour class there are usually only 3 or 4 poses.  People are placed in a really comfortable position using bolsters, blankets , blocks etc. . They stay there for up to 20 minutes giving the nervous system a change to reset in a safe environment.  It is very profound and very safe for anyone.
Classes are FREE of charge to anyone affected by a cancer diagnosis. However, places are limited. If you are interested then please contact us on 086 1724500 during opening hours to find out more.
more